Jackie is Council Chairman for 2022-2023
Tandridge District Council's Chairman for 2022-2023 is Councillor Jackie Wren. The previous chairman, Councillor Simon Morrow, presented her with the ceremonial chain of office when she was elected at the Annual Council meeting on 26 May.
The Vice-Chairman of the Council, also elected at the meeting, is Councillor Chris Botten, who represents the Portley Ward.
Jackie has lived in Oxted since 1999 and has represented the Oxted North and Tandridge ward since 2016. She has been a member of the Housing and Planning Policy Committees and is currently Chairman of the Community Services Committee.
Jackie has been the president of the Oxted Branch Royal British legion since 2017, a position which she feels honoured to hold. She is a well-known member of her community and has worked with many local charities, including the Oxted Carnival, Oxted Pram Race, Titsey Rotary and St Catherine's Hospice.
Since 2016 Jackie has represented Tandridge District Council on the Tandridge Access Group which is a registered charity working to ensure access is provided for people with disabilities across the district. The group works with council planning and highways teams, businesses, architects and many others to achieve this.
The Chairman's chosen charities for the year reflect her passion for good physical and mental health, regardless of age and ability.
• Clockwork: The Clockwork Charitable Trust is a registered charity based in Oxted, Surrey, which offers support and information to young adults in Oxted and the surrounding district suffering with depression and anxiety, with the aim of helping relieve this suffering.
• The Holland Sports Get Fit Club (HSGFC): This club is run by a dedicated set of enthusiastic volunteers who want to encourage more of the community to be more active, more often. The club runs free training sessions with experienced and qualified coaches who give their time free of charge.
The Chairman is married to Mark, a former Royal Marine Commando and recently retired fire-fighter. They have a daughter Alexandra who attended Oxted School and currently runs her own business in Oxted. Jackie has worked in the health and wellbeing industry since 1990 and currently specialises in cardiac, stroke and orthopaedic rehabilitation, working closely with consultants across Surrey and Sussex. During her year she will be supported by her husband Mark, who will be her consort.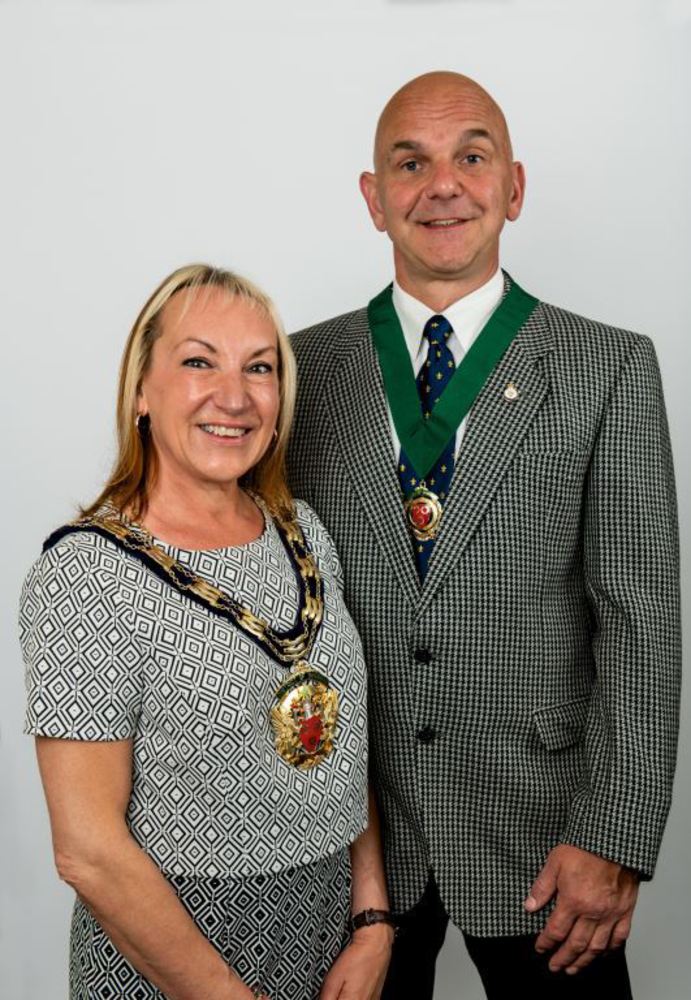 For more details click here
The election of Jackie can be seen on this webcast of the annual council meeting (item 4 ) together with the policy statement for the year ahead (item 11) from the Council Leader, OLRG's Catherine Sayer: click here